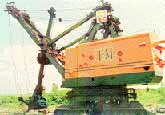 Cherokee County Kansas

County seat — Columbus
---
---
Internet Providers | Newspapers | Schools | Museums | Libraries | Churches | Graphics | Family History | Notables | Local History | Columbus Points of Interest | Cherokee County Related Web Sites | Local Weather
---
Internet Providers
Cherokee County Newspapers
Baxter Springs Citizen — 123 W. 12th, Baxter Springs. 620-856-5163.
Baxter Springs News — 1242 Military Ave., Baxter Springs. 620-856-4081.
Columbus Daily Advocate — 215 S. Kansas, Columbus. 620-429-2773.
Galena Sentinel Times — 511 Main, Galena. 620-783-5034.
Schools
Christian

Life Christian School, Columbus
Colleges & Industrial

Apostolic Faith Church Bible College Inc., Baxter Springs
Coffeyville Community College, Columbus Campus Tech Div., Columbus
Private

Faith Christian Academy, Weir
Museums
BIG BRUTUS INC., West Mineral. The world's second largest electric mining shovel turned into a museum on coal miners and the mining industry. Climb to the top of the boom, 16 stories high — see the view for miles. 7 miles North of Columbus on K7 and 6 miles West on K102. 620-827-6177.
COLUMBUS MUSEUM, INC. — 100 S. Tenn., Columbus. A colorful look at the history of Columbus. Exhibits of vintage clothing, farm equipment, history from Merle Evans (band leader of Ringling Brothers Circus for over 50 years) and more. 620-429-2160.
GALENA MINING & HISTORICAL MUSEUM — 319 W. 7th, Galena. 620-783-2192.
Libraries
Churches
Graphics
Family History
Notables
Local History
Columbus — Points of Interest
CLOCKTOWER - A 1919 Seth Thomas clock, only one of its kind in working order, housed in a 40 foot tower on the square next to the courthouse.
ANDREW CARNEGIE LIBRARY — 205 N. Kansas. The library is one of 33 Andrew Carnegie libraries in the state of Kansas. On the National Historic Register. 620-429-2086.— email collib@columbus-ks.com
FRISCO CABOOSE & 3 WYE SWITCH — Columbus Museum. The caboose is unique in that it is one of 13 train cars converted into a caboose. With the caboose is the Columbus Wye, a three way switch allowing trains to turn around, only one of its kind.
SPORTSMAN PITS & WILDLIFE AREA — Provides great hunting and fishing opportunities — stocked ponds and lakes for fishing, as well as deer, quail, dove and prairie chicken hunting. New canoe trail.
1880 COLUMBUS SQUARE — Take a stroll around the 1880's square of Columbus and visit our shops. You must not miss the turn of the century architecture, or the unique color schemes of each building. Tour the community and see the many historical churches and Victorian homes. Tour map available.
DUKE WELLINGTON MURAL — Scenic exploration of the history of Columbus and Kansas. Displayed in the Columbus Community Building on East Maple.
WAYLAND GREGORY SAND SCULPTURE — Part of the postal service rural art program of the 1930's. Displayed at the Community Building.
COLUMBUS CITY PARK — Picnics in the park, swimming pool, tennis courts, horseshoes, volleyball and basketball courts. Playground equipment.
REEVES PARK — East Town — Tennis courts, playground equipment, picnic, horseshoes.
Cherokee County Related Web Sites
Local Weather
---
This site is maintained by Tom & Carolyn Ward: webmaster@columbus-kansas.com
Last updated:
---
---