Clock Tower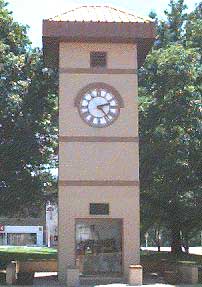 Located on the northwest corner of the square in Columbus.
Many local citizens were involved in this project. Through the generosity of two couples, Mr. and Mrs. Starr Smith, who did the restoration of the 1919 Seth Thomas clock and Mr. and Mrs. Harold Youngman, who provided the financing for the clock tower, the project became a reality in January of 1988.
The clock was originally purchased through public donations as a war memorial for servicemen from Cherokee County who had served in World War 1. The giant Seth Thomas 1919 model clock was placed in the tower of the 1889 courthouse.
In 1955 the courthouse was replaced with the new courthouse and only the hands, four faces and the bell of the clock were incorporated into the new structure.
In 1983 Starr Smith salvaged the balance of the discarded clock parts and since that time has restored it to its original operational capabilities. The 1919 Seth Thomas clock is believed to be the only one of its kind now operating, and is on display in its 40 foot tower on the square in downtown Columbus, Kansas.
One of the clock faces was left on the north side of the courthouse. The other three faces were incorporated in the clock tower.
More information is being researched. Please check back later.
this page is under construction

---
Return to Columbus KS main page
Last updated: